The condition of hair loss is not always spoken about, yet 56 million Americans suffer from this issue(1). There are so many factors that can affect your hair health including genetics, medications, or hormonal imbalances. The condition of your hair can also be a reflection of a nutritional deficiency or a stress-related condition. 
It's no surprise that losing your hair unwillingly can affect your self-confidence. In fact, 81% of women reported that they feel confident when their hair looks great(2), and British men are more concerned about losing their hair than losing their jobs!(3)
Choosing the best supplement for hair growth can really boost your confidence, so be sure to choose one that has the highest quality ingredients. Find out why Research Verified® Hair Growth is the supplement for you by reading our honest customer reviews, ingredient guide, and manufacturer's guarantee. 
What do Our Customers Have to Say?
We understand that when you're looking for a supplement online, customer reviews are priceless. Reading unbiased reviews from people who may be experiencing the same symptoms as you, and have already used the product can help you decide whether a supplement is worth trying.  See our Research Verified ® Hair Growth reviews from our customers:
This Product Does Not Disappoint!!!

I love, love, love this product! Research Verified Hair Growth almost immediately stopped my hair loss, stimulated new hair growth, and increased the thickness and strength of my hair. The only problem I see in using this product is that I will need to visit my hairdresser more often for a trim because the abundance of hair growth vitamins, minerals and other nutrients in this product has noy only stimulated new hair growth, but also dramatically increased the rate at which my hair grows! Trust me when I say that Research Verified Hair Growth will be the answer to your hair woes, and that I am a Research Verified Hair Growth customer for life!

Cynthia S. Koklas, Verified Amazon User.
It Works

My hair was very dry and broke off constantly. I love my hair long and it wasn't anymore! I started using another product that was more expensive with decent results, but when I switched to Research Verified I noticed my hair was softer and fuller almost immediately! The breakage has slowed down and I can tell the new hair growth is smooth and healthy. I am excited to have long hair again!

Rick Jenkins, Verified Amazon User.
Very Impressed!

I had noticed my hair falling out in the past few years…faster than it's growing back in and have become quite concerned how thin my normally very thick hair has become. So more than two weeks of using this product, I am *very* encouraged to notice far fewer hairs in my hair brush and my hair seems to be growing in better already. I can't wait to see what the results will look like after a few months on your product! Thanks so much for creating a product that contains what you say it has in it and that it appears to actually do what it says!

Sandman, Verified Amazon User.
Product Helps Thinning Hair

Just began using this product 2 weeks ago and already my hair feels fuller and has more body. My hair has been thin and receding for the last few years. Also I feel more energetic since using this product. I am very pleased thus far.

Anonymous, Verified Amazon User.
Love This Supplement!!

I was looking for a biotin vitamin for hair, skin, nails and came across this Advanced Hair Growth Support! I have been using it for the last month and I have seen positive changes already! I noticed LESS HAIR in the hair catcher drain in the shower! That was a big plus for me. When styling my hair I literally can SEE how much thicker my hair is on top near my scalp! I've always wanted to grow my bangs out without that 'thin look' and I am finally doing that!… My bangs are past my nose!

Leah Rock, Verified Amazon User.
What is Research Verified® Hair Growth?
The Research Verified® Hair Growth supplement restores your hair's health by addressing the root cause of your hair loss and delivering nutrition to your hair. This dual-action formula contains an all-natural blend of herbs, vitamins, and minerals that prevent further hair loss while stimulating healthy hair growth. Using this particular product, you are assured that it provides the most comprehensive hair growth support available on the market since there are no additives, preservatives, or potentially toxic ingredients.
What Are The Ingredients In Research Verified® Hair Growth?
The Research Verified® Hair Growth is expertly formulated with high-quality ingredients to ensure you get the best results. The ingredients are carefully selected based on comprehensive research. Here is our ingredient guide:
Saw Palmetto
Prevents hair loss and promotes growth by preventing the conversion of testosterone to DHT. (4)
Ginkgo Bilboa
Improves the blood flow to the scalp and increases the growth rate of follicle cells. (5)
Fo-Ti
An ancient Chinese herb that stimulates the kidneys and circulatory system to help the body eliminate toxins that can cause hair thinning. (6)
Tocopheryl Acetate
The most potent form of Vitamin E that has antioxidant properties which can help maintain a healthy scalp and sustain hair growth. (7)
Borage Oil
High in the fatty acid gamma-linoleic acid (GLA), which reduces inflammation in the skin and helps retain moisture to help create the optimal environment for healthy hair growth. (8)
Silica
This mineral boosts hair strength by helping deliver essential nutrients to the scalp and hair follicles. (9)
MSM (Methylsulfonylmethane)
Provides the body with sulfur to produce Keratin and Collagen for healthy hair and nails. (10)
L-Cysteine
This sulfur-based amino acid enhances the strength of Keratin, the most abundant protein found in skin and hair. L-Cysteine through Keratin is able to help hair retain moisture and slow down hair loss. (11)
L-Methionine
The amino acid Methionine plays an important role in strengthening hair and preventing breakage. This amino acid, like L-Cysteine, is sulfur-based and reinforces Keratin production. (12)
Biotin
Biotin (B7) is one of the most important B Vitamins for hair health and growth. In addition to stimulating the production of Keratin, biotin can boost the growth of follicles, resulting in healthier and stronger hair. (13)
Zinc
This trace mineral is key for stronger hair structure and increased hair growth. Hair loss can often be linked to a zinc deficiency. (14)
Selenium
A trace mineral with anti-oxidant properties that fights against free radicals, as well as boosts the immune system to reinforce healthy hair production and maintenance. (15)
B Vitamins
A B Vitamin complex that includes B2, Niacin, B5, B6, Folic Acid, and B12 is essential for scalp health, generating renewed hair growth, as well as reducing the risk of hair loss. (16)
Vitamin A
Contributes to skin and scalp health, which promotes healthier follicles that produce and maintain thicker, longer hair. (17)
Iron
Iron is required for the body to sustain fast hair growth. Low levels of iron have been shown to cause hair thinning. (18)
Iodine
Low levels of iodine have been linked to thyroid dysfunction, which can cause hair loss among other symptoms. (19)
Copper
Recent studies have found that Copper could encourage the formation of new hair follicles, stimulating hair growth in bald areas. (20)
Does Research Verified® Hair Growth Have Any Side Effects?
Research Verified® Hair Growth is formulated using all-natural ingredients that have been extensively researched to ensure safety and effectiveness. Each ingredient undergoes diligent third-party testing to guarantee that the product is of the highest quality.
The manufacturer is also committed to ensuring that its processes always align with its FDA approval status, as well as its cGMP certification. Consumers of Research Verified® products never have to worry about the safety of the manufacturing process.
The Hair Growth formula uses clinically-proven ingredients with scientifically-backed concentrations in order to prevent side effects. Additionally, there are no fillers or contaminants added to the formula which could interfere with results.
We always encourage consumers to check with their physician before starting a new supplement routine. This is especially important for people who may be suffering from underlying health conditions, pregnant or nursing, as well as those who have allergies to certain medications, or ingredients.
Where Can I Buy Research Verified® Hair Growth?
Research Verified® Hair Growth is available to purchase through the Research Verified website or on the Research Verified Amazon Store. 
Will I Benefit From Research Verified® Hair Growth?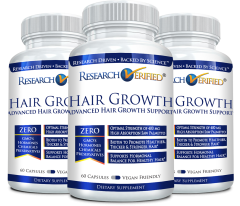 Research Verified® Hair Growth is the best thing you can do for your hair. The fact that our hair growth supplements are made with natural ingredients, safe and scientifically proven is the reason why people trust us and buy from us. We are so confident in our product, that we offer a 365-day money-back guarantee, so you can try our supplement completely stress-free!