Individuals have used the popular golden spice, turmeric, in cooking since ancient Vedic culture in India approximately 4,000 years ago (1). Today, turmeric is a household product, and many use it to flavor or color curry dishes. While this is the most common method of cooking with turmeric, the spice can be used in a variety of unique ways too. In this article, we share more information about turmeric, how to cook with it, recipes to get you started, and the various health benefits associated with it (2).
What is Turmeric?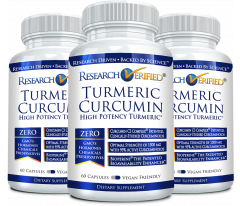 Turmeric is a plant native to Southeast Asia that is grown commercially in India. The plant is part of the ginger family, and its roots are typically ground into a powder or spice that can be added to various foods for flavor, fragrance, and color. Turmeric also has a long history as an all-natural, alternative medicine in Ayurvedic practices (3). From skin disorders to respiratory problems, liver disease, depression, and more, turmeric has been used to support the body in a variety of ways.
More recently, turmeric supplements are being manufactured to harness the potential health benefits of turmeric. These supplements are designed to provide high concentrations of the core ingredient, curcumin. Research Verified® Turmeric Curcumin is an example of a highly effective turmeric curcumin supplement that takes advantage of the various properties of curcumin in turmeric.
How Should You Cook With Turmeric?
Turmeric is typically used to flavor or color certain dishes, with the spice being the main means of cooking with turmeric. Rarely do recipes include the actual turmeric root as its ground variation remains the most popular method of consumption. That said, turmeric powder can be replaced by turmeric root in recipes that blend the ingredient, such as turmeric smoothie recipes. The root can also be cooked in pots and removed once a dish is completed, as eating raw turmeric is not an ideal way to appreciate its complex flavors or receive its unique health benefits.
3 Simple Turmeric Recipes
There is an abundance of turmeric recipes, ranging from juices to curries, and below we list three of the most simple ones to get you started.
1. Turmeric Scrambled Eggs | Breakfast
Rise and shine with a kick. This golden dish is one of the best and easiest ways to start your day with a healthy boost.
Ingredients
1 tsp coconut oil
½ chopped garlic clove
100g baby spinach
4 medium eggs
50ml coconut milk/cream
2 tsp turmeric root, grated
2 slices bread (low GI, sourdough, rye, etc)
Method
Drizzle the coconut oil in a non-stick pan over medium heat. Fry the garlic being careful not to burn, add the spinach leaves, letting wilt for a few mins.
Whisk the eggs with coconut milk and turmeric. Season with salt and pepper. Add to the pan with the spinach and stir continuously for 5-8 mins until the scrambled eggs are at your preferred consistency. Serve on slices of your favorite toasted bread.
2. Turmeric Smoothie | Lunch, Snack
This Nutrient packed turmeric smoothie is a powerful midday health boost to keep you feeling strong and motivated during the workday.
Ingredients
1 cup milk (diary-free, lactose-free, etc)
2 cups pineapple chunks (fresh or frozen)
1 banana
1 tbsp grated turmeric root or 1 tsp ground turmeric
1 tsp grated ginger or ⅓ tsp ground ginger
Method
Add all ingredients to a blender or food processor and pulse on high until creamy or for approximately 30 seconds.
You can garnish your smoothie with fresh mint, fruit slices, or berries for added boost flavor and benefits.
3. Turmeric Chicken Coconut Curry | Dinner
A quick and easy turmeric dinner, this simple recipe remains a firm favorite among fans of the golden spice and the many health benefits associated with it.
Ingredients
1 tbsp avocado oil (or any cooking oil)
4 boneless, skinless chicken thighs, cut into 1-inch pieces
2 cups diced onion
2 cloves minced garlic
2 tbsp grated ginger
1 1/2 tsp ground turmeric
1 1/2 tsp ground cumin
1 tsp ground coriander
1/2 tsp ground cardamom
4 cups cubed butternut squash
1 can coconut milk
1 cup chicken broth or stock
1/2 tsp garam masala
4 cups baby spinach
1 tbsp lime juice
Method
Prep, cut, and mince ingredients before cooking.
Sauté the chicken, then remove it from the pan and set it aside.
Sauté the onion until softened and translucent, then add the ginger and garlic.
Add the spices to the pan shortly after and stir fry until fragrant, about 30 seconds.
Add the butternut squash cubes to the pan along with the coconut milk and broth, and let simmer until tender. Approximately 15 minutes.
Add the roughly chopped spinach towards the end of the 15 minutes, along with the garam masala.
Season with salt, pepper, and freshly squeezed lime juice.
Serve with freshly chopped coriander, lime wedges, and sides.
The Health Benefits of Turmeric
As mentioned above, turmeric consumption can provide several health benefits. These health benefits are linked to the plant's key chemical curcumin, a byproduct typically used in the best turmeric supplements on the market. Below, we discuss the primary health benefits of turmeric in more detail.
Provides Anti-Inflammatory Properties
Curcumin is a powerful anti-inflammatory that can fight low-grade chronic inflammation, according to studies. The substance, as a result, can also prevent the onset of more serious health conditions associated with this long-term inflammation.
Can Increase Antioxidant Presence
Curcumin is a natural antioxidant that is responsible for fighting free radicals and reducing oxidative stress. According to studies, there is a link between curcumin's antioxidant qualities and its ability to fight inflammation.
May Prevent Heart Disease
Curcumin is reported to support endothelium, the lining of the blood vessels, in the body. This, combined with the anti-inflammatory properties of curcumin can prevent a prolonged increase in blood flow from damaging the heart and causing heart disease.
These are only a few of the health benefits associated with curcumin consumption, and you can review more of the ways that curcumin interacts with the body here.
The Most Efficient and Effective Means of Experiencing These Turmeric Benefits
Cooking with turmeric is a fabulous experience, but it is not the most efficient nor effective means of receiving the health benefits associated with curcumin. Instead, individuals should look to turmeric curcumin supplements as they provide high concentrations of the key active ingredient. Furthermore, the best turmeric curcumin supplements on the market, such as Research Verified® Turmeric Curcumin, contain BioPerine® to improve the absorption rate of curcumin. This specific formula ensures that you receive the total benefits of turmeric curcumin in the quickest time possible, and you can improve the rate at which you experience curcumin's benefits by combining this supplement with a healthy diet that includes the turmeric recipes listed in this article.
test
In conclusion
Cooking with turmeric can be made simple following the recipes listed in this article. If you wish to experience the many benefits associated with turmeric curcumin, then be sure to combine a diet that includes these recipes with a clinically proven turmeric curcumin supplement. By doing so, you should receive the anti-inflammatory and antioxidant benefits of turmeric curcumin efficiently.