Joint health is a pivotal aspect of overall well-being, especially as we age or engage in physically demanding activities. Research Verified® Joint Relief has emerged as a popular choice for many seeking reprieve from joint discomfort and looking to enhance mobility. But what truly makes this product stand out? This comprehensive article delves into a balanced review of Research Verified Joint Relief. Drawing insights from user reviews, we'll highlight its applauded benefits while also examining the ingredients that power its formula. Furthermore, for a well-rounded perspective, we will touch upon any reported side effects, ensuring that you have a thorough understanding of what this product brings to the table. Dive in to make an informed decision about your joint health journey.
What is Research Verified® Joint Relief?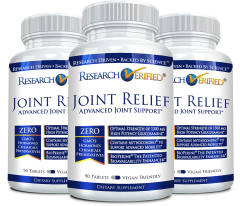 Research Verified® Joint Relief is a comprehensive joint support supplement that contains clinically-proven natural and patented ingredients. Its formula works to fight inflammation in the joints and support their recovery (1). The high concentration of active ingredients provide effective results that might not be possible with lower doses.
Additionally, Research Verified® offers a one-of-a-kind 365-day money-back guarantee! We are so confident in this product that we want you to try it and see the results for yourself.
Below, we explore the formula in more detail, discussing the core ingredients, their dosages, and how they benefit the body. Additionally, we elaborate on the manufacturer's guarantees and provide online reviews to give you a clearer understanding of what to expect from Research Verified® Joint Relief.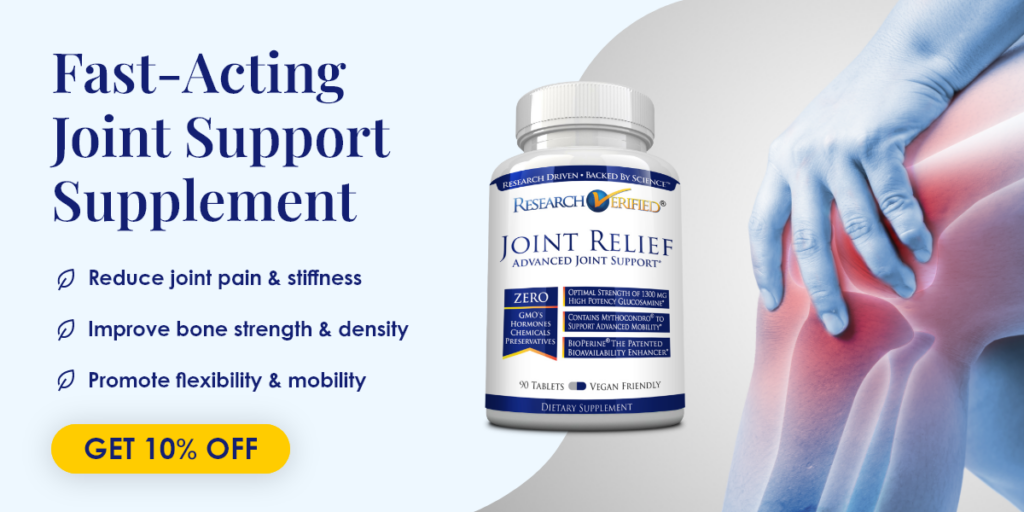 read customer reviews
Online reviews play a crucial role in providing clarity regarding the perceived versus actual benefits of joint support supplements. Assessing both is critical, as authoritative sources provide unbiased insight into the quality of a supplement. Public reviews reflect consumers' everyday experiences with the product. So what do customers say about Research Verified® Joint Relief?
Amazon Reviews:
Relief from knee pain!
This product has helped my knee pain. It did not take long to start work. Will continue to take it.

Julie, Verified Amazon Customer (5 out of 5 stars)
My husband and I switched from Glucosamine with Chondroitin to Joint Relief
My husband and I switched from Glucosamine with Chondroitin to Joint Relief and have definitely had reduced pain.
Both of us use it for knees and arthritis.

GG, Verified Amazon Customer (5 out of 5 stars)
It works!
Pain in the knees stopped!

John Stark, Verified Amazon Customer (5 out of 5 stars)
Knee Support
Needed knee surgery 20 years ago. Used a number products to sustain my knee but this one has been far better then any used before.

Maxine C Thomas, Verified Amazon Customer (5 out of 5 stars)
It really works!!
I'm a runner and it is important that I take care of my body, especially my knees. Since I have been using this over the past year I can see a vast difference. My knees no longer swell with my long runs. I would recommend this whether you are a runner, enjoy walking or just for pain reduction in your joints.

Karen Walker, Verified Amazon Customer (5 out of 5 stars)
Tried a few joint pain supplements – Joint Relief is working!
This is the 3rd supplement I have tried for deteriorating cartilage in my knee. I'm in my 60's and active all the time. The Joint Relief supplement has helped me to continue to enjoy, yoga, cycling and miles of walking. Give a try and just might work for you!

Ann Marie, Verified Amazon Customer (4 out of 5 stars)
It is important to note that the majority of public reviews on Amazon are positive. You can read them here.
The Benefits of Joint relief Supplements
As we have mentioned, joint support formulas are designed to minimize pain and relieve inflammation associated with arthritis and other minor and major joint conditions. While this is their primary role, the ingredients often provide a range of additional health benefits. The best ingredients to look for include those that also help support immune function, such as L-Glutamic Acid.
The Formula behind Research Verified® Joint Relief
Here is a breakdown of the ingredients in Research Verified® Joint Relief, and the benefits associated with each one:
Glucosamine Sulfate
This natural sugar is found within the body amongst the fluid and cartilage that protects the joints. Therefore, its presence within the body is critical for promoting proper joint function and reducing inflammatiom. Studies have shown that Glucosamine Sulfate can help repair and maintain cartilage health. It can can improve lubrication in the joints and reduce pain associated with osteoarthritis and other conditions (2). Glucosamine Sulfate can be ingested by consuming shellfish or by taking joint support supplements that contain a vegan variation. Research Verified® Joint Relief provides a clinically proven concentration of Glucosamine Sulfate to support the joints.
Methylsulfonylmethane (MSM)
Methylsulfonylmethane (MSM) works with Glucosamine Sulfate to benefit the body and the joints. Studies show that MSM can enhance the benefits of Glucosamine Sulfate among patients with osteoarthritis and other joint conditions (3). Therefore, the combination of these two ingredients in Research Verified® Joint Relief can provide dual-action joint support benefits.
Mythocondro®
This patented ingredient is incredibly powerful and has scientific studies supporting its efficacy. Mythocondro® is a patented derivative of Chondroitin, a powerful ingredient that supports the joints alongside Glucosamine Sulfate and MSM. Studies have found that this combination is one of the most effective solutions among patients suffering from osteoarthritis and other joint conditions (4). Furthermore, these sources report that the combination is incredibly safe. Individuals should feel confident about the consumption of joint support supplements offering Mythocondro as a core active ingredient.
CMO (Cetyl myristoleate)
CMO (Cetyl myristoleate) is a fatty acid ester (FAE) that supports the body in a variety of important ways (5). This ingredient is included to reduce inflammation, lubricate the joints, soften cartilage , and improve the flexibility of the joints. CMO enables the ingredients mentioned above to work more effectively within the body and the joints, providing a comprehensive support system.
Hyaluronic Acid
Hyaluronic Acid is a powerful ingredient found within the best joint support supplements (and some of the best skincare products). This is because Hyaluronic Acid is a comprehensive health ingredient that supports a variety of areas within the body. Hyaluronic Acid is most notably known for its ability to improve the suppleness and moisture of the skin. However, it is included in this particular formula for its benefits on the joints. Studies show that Hyaluronic Acid may relieve pain and reduce inflammation by cushioning the joints (6). It can repair damage and also promote the development of new cartilage and bone tissue around the joints. 
Black Catechu
Derived from the Acacia tree, Black Catechu is a completely natural and safe ingredient that provides numerous health benefits. It has been used in Ayurvedic medicine primarily for its ability to act as an anti-inflammatory (7). Its inclusion in this formula is to support the ingredients mentioned above. Furthermore, this ingredient can contribute to other areas of the body by providing holistic healing properties (8).
L-Glutamic Acid
This proteinogenic amino acid naturally occurs within the body; however, it levels deplete with age. Individuals can counter this decline by sourcing the ingredient from joint support supplements. Studies show that L-Glutamic Acid plays a role in reducing inflammation in the joints (9). It can also strengthen the skeletal muscle structure, boost metabolic rate, and support immune strength. The combination of these benefits should support a healthy body, bones, and joints. Therefore, L-Glutamic Acid is a vital ingredient to consider when choosing which joint support supplement to take.
L-Cysteine
This ingredient is a proteinogenic semi-essential amino acid that contributes to the growth and development of proteins within the body. An increase in proteins within the body can positively impact a range of internal functions, specifically those that would impact the joints. In this formula, L-Cysteine works to strengthen the cartilage, repair damaged tissues around the joints, and support the strength of the skeletal muscles. Studies highlight the positive impact that L-Cysteine has on patients that suffer from health conditions that affect the joints (10).
White Willow Bark
Containing Salicylic Acid, this natural ingredient can help relieve symptoms associated with arthritis and other joint conditions. Studies suggest that Salicylic Acid can alleviate pain, reduce swelling, combat redness, and more (11). 
Boswellia
This natural anti-inflammatory is another beneficial ingredient found in effective joint support supplements. It compounds the positive impacts of the ingredients already mentioned. Rheumatism is one of the most common targets for this ingredient, as it works to reduce inflammation and the subsequent pain associated with it.
Holy Basil
Holy Basil, or Ocimum Sanctum, can be found in many of the best joint supplements as it offers a range of benefits and is completely natural and safe (12). Beyond supporting the body's ability to heal wounds and recover internal damage, Holy Basil can provide pain relief, alleviate inflammation, and control sugar levels. In doing so, Holy Basil can support joint health and reduce the prominence of symptoms associated with arthritis, chronic inflammation, and other health conditions (13). 
Turmeric
Turmeric is a powerful ingredient by itself. Its core active compound, Curcumin, is the primary ingredient in many health supplements (14). It is typically used to reduce inflammation and support the body's defense against oxidative stress.
Ginger Root
Ginger root, a natural powerhouse known for bolstering the immune system and easing common discomforts like nausea, plays a vital role in this joint health supplement's formulation. Its inclusion is strategic, enhancing the synergy of the formula's ingredients, and offering users a dual advantage. Not only does it support overall health, but it also provides targeted relief for the aches and stiffness associated with arthritis and other joint-related conditions, promoting improved joint health and mobility.
Bromelain
Bromelain is known to improve an individual's rate of healing, reduce swelling in the joints, and alleviate pain experienced by those with chronic or irregular joint issues (15).
Rutin
This powerful antioxidant can fight oxidative stress that can contribute to joint pain and swelling. It also offers the body a range of important health benefits for protection from various conditions (16).
BioPerine®
BioPerine® is a patented black pepper extract, also known as Piperine. It has been shown to substantially increase the bioavailability of the nutrients in foods and supplements. Piperine can turn a marginally effective therapeutic substance into a highly effective one by increasing its bioavailability and intracellular residency time – meaning that you will feel the benefits much faster!
Are There Any Side Effects of Research Verified® Joint Relief?
Research Verified® Joint Relief contains a range of natural and safe clinically-studied ingredients. Additionally, it aligns with USP quality standards for compounding measures (17). This, along with rigorous third-party testing, ensures that the product delivers one of the purest and safest joint support formulas on the market.
The manufacturer is also clear about its FDA approval status as well as being cGMP certified (18). This should give consumers peace of mind regarding the safety of manufacturing processes.
Regarding the formula, scientific evidence backs the ingredients and their concentrations in order to avoid side effects. Furthermore, the formula does not contain contaminants that may hinder results.
However, consumers are always advised to check with their physician before starting a new supplement routine. This is especially relevant for people with underlying health conditions or for those who typically experience unwanted reactions to supplements.
Take additional precautions if any of the following applies to you:
You are pregnant and/or breastfeeding
You are taking prescribed medication
You are going for surgery in the upcoming months
You are allergic to certain ingredients or medications
How to Take Research verified® Joint Relief
Research Verified® Joint Relief's packaging provides clear instructions and dosage guidelines for optimal results. One should consume three (3) tablets daily with water, 30 minutes before eating. For best results, consume one tablet in the morning, one tablet before lunch, and one tablet before dinner.
Should You Take Research Verified® Joint Relief?
Research Verified® Joint Relief may be a game-changer for anyone grappling with joint pain or inflammation. Its scientifically-backed formula targets the discomfort at its source, potentially easing pain and improving mobility. Whether you're dealing with arthritis-related issues or general joint stress, this supplement works to support joint health and enhance your quality of life. It's definitely worth considering if you're seeking a solution that can help restore your joints' natural comfort and function. Say goodbye to the crippling joint pain and persistent inflammation that hold you back. Put the spring back in your step today!