Research Verified Migraine Relief has consistently received positive reviews from customers. People who have tried this supplement to alleviate their migraines have been amazed by the results, and it's no wonder why. With its carefully researched ingredients and commitment to providing only the highest quality product, Research Verified Migraine Relief is a top-notch supplement. Read on to find out more about why this supplement is getting such positive reviews.
What is Research Verified Migraine Relief?
Research Verified Migraine Relief is a nutritional supplement formulated to help people with migraines. The supplement is made from high-quality, clinically-studied ingredients that undergo third-party testing to ensure their potency and effectiveness. This supplement also comes with a 365-day money-back guarantee, which speaks to the company's confidence in its product. With Research Verified Migraine Relief, you can be assured of its quality and efficacy.
How does Research Verified Migraine Relief work?
Research Verified Migraine Relief works by using a blend of natural ingredients that have been scientifically proven to reduce inflammation, relieve pain, and prevent the onset of migraines.
One of the key ingredients in Research Verified Migraine Relief is magnesium, which has been shown to help regulate the activity of neurotransmitters in the brain and reduce inflammation in the body (1). This supplement also contains feverfew (2), a plant that has been traditionally used for its pain-relieving properties. Feverfew is believed to work by inhibiting the release of inflammatory substances in the body.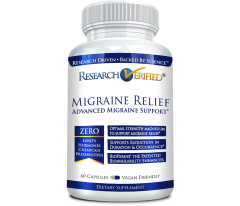 Another important ingredient in Research Verified Migraine Relief is riboflavin (vitamin B2), which has been shown to improve energy metabolism in the brain and reduce the frequency and severity of migraines (3). The supplement also contains ginger extract, which has anti-inflammatory and analgesic properties that can help reduce the pain associated with migraines (4).
In addition to these key ingredients, Research Verified Migraine Relief also contains a blend of other natural compounds that work synergistically to support brain health and reduce the risk of migraines. This supplement is designed to be taken daily as a preventative measure, and can also be used to alleviate symptoms when a migraine does occur.
Overall, Research Verified Migraine Relief is a safe and effective way to manage migraine symptoms without relying on prescription medications or other potentially harmful treatments. If you suffer from migraines and are looking for a natural and reliable solution, give Research Verified Migraine Relief a try to see for yourself what all the positive customer reviews are talking about!
What are people saying in their Research Verified Migraine Relief reviews?
One of the biggest testaments to the effectiveness of any product is the feedback it receives from its users. Fortunately, Research Verified Migraine Relief has been garnering a lot of positive reviews from customers who have tried the supplement. Many people who have suffered from chronic migraines have reported significant relief after taking this nutritional supplement, and their reviews offer a glimpse into the transformative effects that Research Verified Migraine Relief can have on someone's life. Let's take a closer look at what people are saying about this supplement in their reviews.
Here are some of the Amazon reviews for Research Verified Migraine Relief:
This stuff works! And I mean better than my expensive prescription meds.

I've suffered with migraines every single day for years. Tons of meds with only marginal relief. Tried this and I'm glad I did. Been on it twice daily for 3 weeks. Already getting amazing results. You owe it to yourself to try this. It is far better than my very expensive prescription medication.
Good combination.

I've only taken one bottle, I think I need to take it for a longer time to see results but it has the perfect combination of ingredients and dose, as recommended by my neurologist. Thanks!!
Smooth, easy transaction!

Decided to try this product for migraine prevention and believe it does help decrease frequency and intensity. I've not been aware of any unpleasant side effects.
Life changing!

I have suffered from migraine for over 30 years and they are now gone. LIFE CHANGING.
Read more 5-star reviews here.
In Conclusion
Overall, the positive reviews of Research Verified Migraine Relief are a testament to the efficacy of this supplement. If you're someone who suffers from chronic migraines and is looking for a natural, effective solution, this product may be worth considering. The reviews suggest that many people have found significant relief after taking the supplement, and that it's a safe, high-quality product that's worthy of consideration.
If you are interested in purchasing this product, it is available on the Research Verified website where you can also find additional information about this supplement, its ingredients, and its certifications.