Wondering what all the hype is about CoQ10? Why is it significant to your health? And how can it impact your life? We have narrowed down all the important facts you need to know about CoQ10. Find out what it does, what to look for in a CoQ10 supplement, and where you can buy it.
What is CoQ10?
Coenzyme Q10, also known as CoQ10, is a vital nutrient that is found in every cell in the human body. It is an antioxidant that is responsible for generating energy and aiding the body in many cellular functions. Our body produces this compound naturally, but with age and various health conditions, our levels can become depleted. We recommend adding it to your daily routine as a supplement to maintain overall health and prevent the progression of several diseases. In this article, we will dive deeper into the many benefits of CoQ10, how it works, and who may benefit the most from supplementation.
>>CLICK HERE To Purchase Research Verified CoQ10 – And Get 10% Off!
benefits Of CoQ10
Boosts Energy – CoQ10 converts food into the energy compound ATP (Adenosine Triphosphate). ATP is crucial for cells to function properly and is required for normal bodily functions. Deficient amounts of CoQ10 could result in chronic illness.
Fights Free Radicals – CoQ10 is a powerful antioxidant that helps neutralize the damage caused by free radicals (1). This includes protecting the skin against oxidative damage such as that caused by UV rays, as well as anti-aging benefits.
Cardiovascular Protection – There are a number of organs in the body that hold higher levels of CoQ10 than others, one of which is the heart (2). In contrast, low levels of CoQ10 may lead to heart failure. CoQ10 supplementation helps restore cardiovascular cell energy to retain healthy function.
Blood Sugar – High oxidative stress makes the cells in your body vulnerable and may result in the mitochondria not functioning properly. If your cells cannot function at 100%, then they cannot absorb sugar properly which can then result in high blood sugar levels. Supplementing with CoQ10 ensures that the mitochondria are not deficient, and therefore helps promote healthy blood sugar levels (3).
Cognitive Health – brain cells particularly require a lot of energy and are susceptible to cause neurological disease if deficient in CoQ10. CoQ10 helps protect these cells against the potential damage caused by oxidative stress (4).
Note: CoQ10 is a fat-soluble supplement. This means that it needs fat to be absorbed properly. Ideally, a CoQ10 supplement should include an oil such as MCT Oil for maximum absorption.
>>CLICK HERE To Find Out How CoQ10 Compares With Other Popular Antioxidants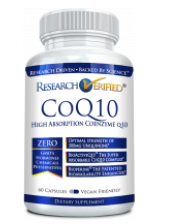 Introducing Research Verified® Coq10
Research Verified® CoQ10 is a high-quality CoQ10 supplement that utilizes the best ingredients to get you optimal results. It is free of harmful additives, making it a safe and effective choice for anyone looking to improve their overall health and well-being. And the best part? Research Verified® CoQ10 comes with a 365-day money-back guarantee. This means that if you are unhappy with your results, you can return the product at any point within a year of purchase for a full refund (not including shipping). This is is unparalleled – you won't find a better deal anywhere else.
>>CLICK HERE To Purchase Research Verified CoQ10 – And Get 10% Off!
So let's get into it a bit more:
Research Verified® Coq10 ingredients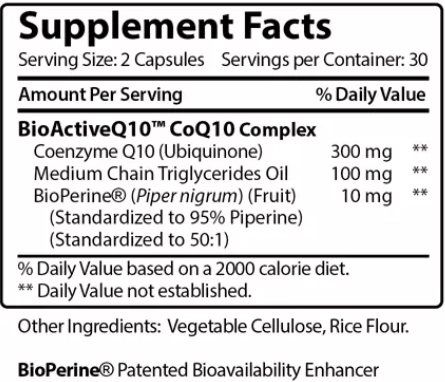 What do our customers say about Research Verified® Coq10?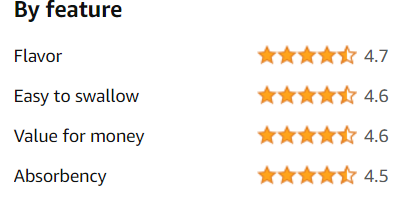 We think Research Verified® CoQ10 is a great product – but we don't expect you to take our word for it. Customer reviews are a great indication of the quality of a supplement, and a huge part of deciding whether or not a supplement is going to work for you. So how do our customers feel about Research Verified® CoQ10?
Here are some Amazon customer reviews:
I feel more energy and overall sense of well being. I am less tired from my mile walk everyday. From what I have read about this product I am confident that it is superior to the other CoQ10 products on the market. I will be a long term customer, and I will be recommending it to my two thousand Facebook friends.

Donna K.
Research Verified CoQ10 works well with statins to improve heart health. I had a heart attack in 2014, had 4 stints inserted, and have been on statins to lower my cholesterol. I just returned from my cardiologist today and he said there is no sign that I ever had a heart attack and my heart is in great shape. If you are taking a statin, then you need to take a CoQ10 supplement. Research Verified is the best CoQ10 supplement I have found.

Rich S.
I have used CoQ10 for many years, but with this brand I have actually felt a difference. I don't need as much sleep. I am more alert and I feel like it is actually helping.

Colleen
I work a 10 hour day and do not get home until 6:00pm. In the past I have been too tired to work out. Since taking the product I have a much higher energy level and able to work out when I get home.

Diane H.
We've tried a more expensive brand of CoQ10 before finding this brand. We are now on our 2nd bottle and find that we are getting better results ie. more energy, enhanced mood, and brain seems to move faster when doing crossword puzzles. Overall we are pleased with this brand of CoQ10.

Mikey M.
You can read more reviews here.
where to buy Research Verified® Coq10
Introducing CoQ10 to your daily routine is easy as one-two-three. We have presented you with all the important facts you need to know about it – so what are you waiting for? You can purchase Research Verified® CoQ10 directly from our website or through our Amazon storefront.
>>CLICK HERE To Purchase Research Verified CoQ10 – And Get 10% Off!