It's that bewitching time of year again—Halloween! As we prepare for a night of costumes, candy, and creepy crawlies, let's not forget about one of the most important organs that keeps us going: the heart. Just because it's Halloween doesn't mean your diet has to take a scary turn. In fact, this is the perfect opportunity to discover Halloween treats for heart health that are as delicious as they are nutritious.
What Makes a Food "Heart-Healthy"?
Before we dive into our tasty recipes, let's talk about what makes food good for your heart. Foods low in sodium and rich in antioxidants, fiber, and healthy fats can contribute to a healthy heart. These include:
Omega-3 Fatty Acids: Found in fish like salmon and tuna. Omega-3 fatty acids are proven to lower the risk of heart disease (1). Adding a high-quality omega-3 supplement to your diet can provide a beneficial boost to your cardiovascular well-being.
>>Discover The Best Way To Get Your Omega-3s!
Fruits: Berries, grapes, hawthorn berry, and pomegranates are excellent choices that are high in antioxidants (2).
Vegetables: Think nutrient-dense leafy greens like spinach and kale as well as avocados for their monounsaturated fat content (2).
Whole Grains: Oats, whole-wheat bread, and brown rice to boost fiber and help lower cholesterol (3).
Nuts and Seeds: Almonds, walnuts, and chia seeds which are high in healthy fats, protein, and fiber to support heart health (4).
Spices: Turmeric and cinnamon are great heart-healthy choices that have anti-inflammatory and antioxidant properties (5).
Oils: Olive oil in particular is rich in monounsaturated fats for boosting heart health (6).
Hauntingly healthy recipes
Prepare to be spellbound by these delicious Halloween treats for heart health!
Spook-tacular Pumpkin Seed Mix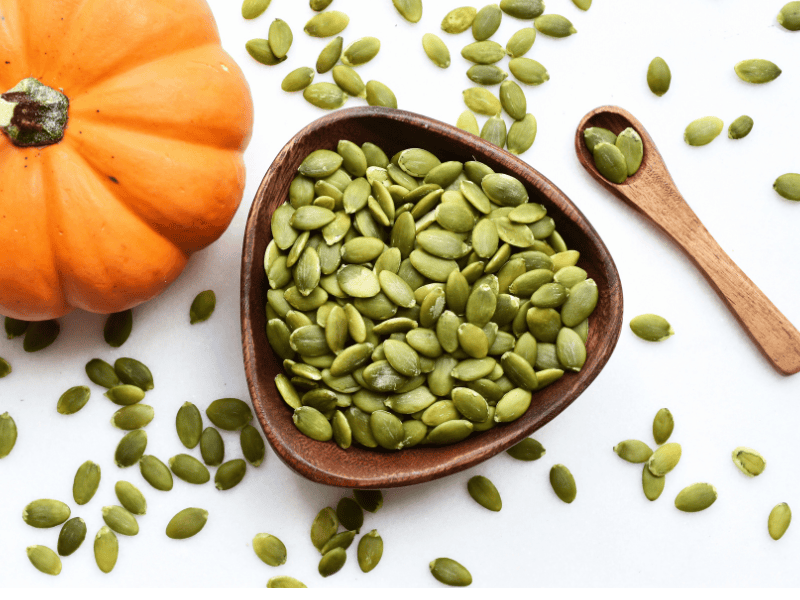 Ingredients:
1 cup pumpkin seeds
1 tablespoon olive oil
1 teaspoon turmeric powder
A pinch of salt
Instructions:
1. Preheat oven to 350°F (175°C).
2. Toss the pumpkin seeds with olive oil, turmeric powder, and sea salt.
3. Spread the mixture evenly on a baking sheet.
4. Bake for 10 minutes or until the seeds are golden.
This snack is high in antioxidants and good fats, making it a heart-healthy option for your Halloween celebrations!
Frighteningly Fresh Berry Parfait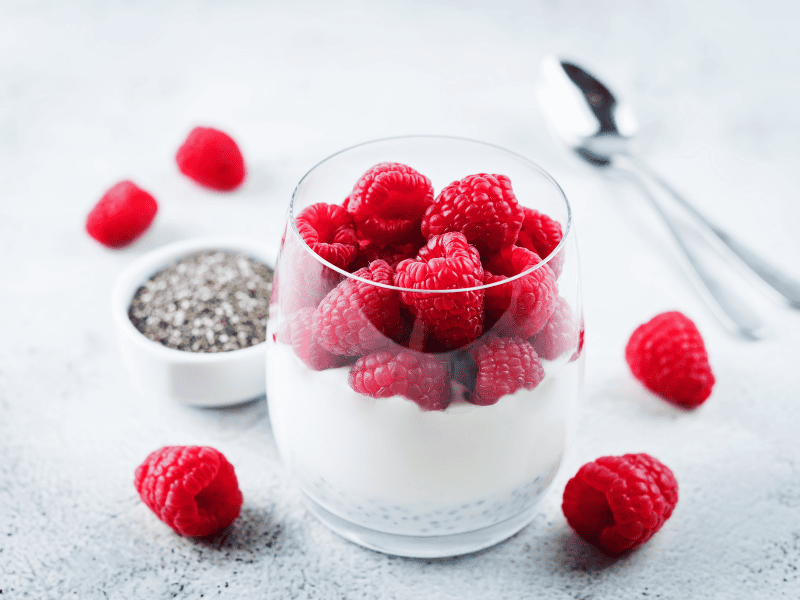 Ingredients:
1 cup mixed berries (blueberries, strawberries, raspberries)
1 cup Greek yogurt
1 tablespoon honey
A sprinkle of chia seeds
Instructions:
1. Layer Greek yogurt and berries in a cup.
2. Drizzle honey on top.
3. Sprinkle chia seeds for an added heart-healthy crunch.
The berries and chia seeds in this recipe are packed with heart-healthy nutrients!
Ghastly Green Smoothie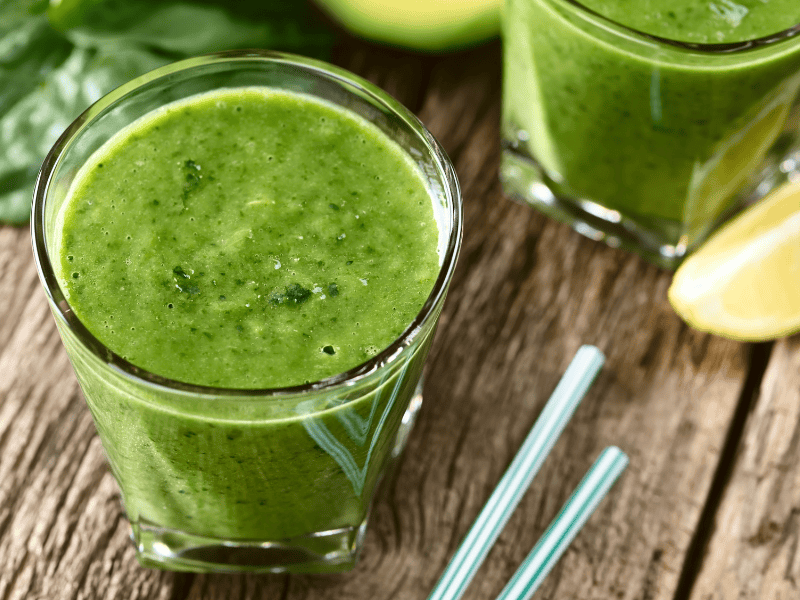 Ingredients:
1 cup spinach
1 banana
1/2 avocado
1 cup almond milk
1 tablespoon chia seeds
Ice cubes
Instructions:
1. Blend all ingredients until smooth and enjoy!
This smoothie not only looks spooky thanks to its green color, but it's also chock-full of heart-healthy fats and fiber.
Mummified Stuffed Bell Peppers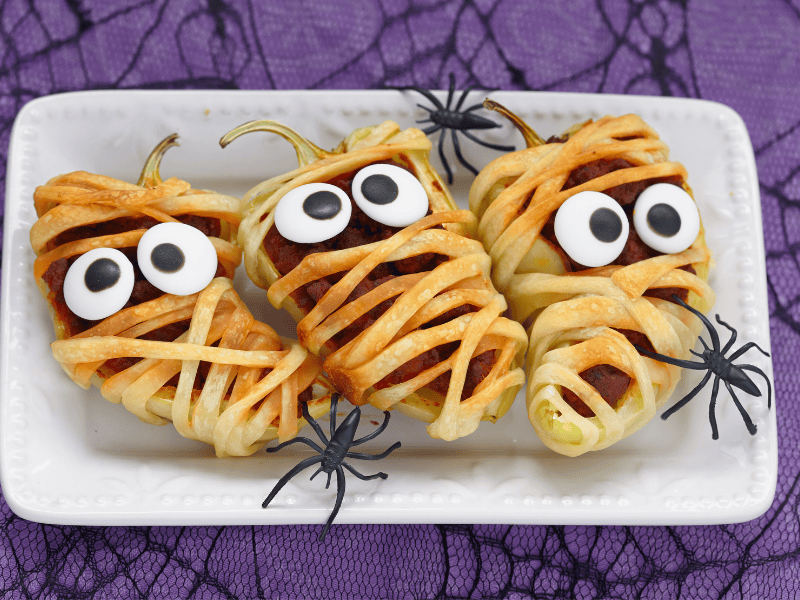 Ingredients:
4 large bell peppers
1 cup cooked brown rice
1 can black beans, drained
1 cup cooked quinoa
1 teaspoon cumin
1 teaspoon garlic powder
Salt to taste
Sliced mozzarella or thinly sliced pastry for "mummy wrapping"
Instructions:
1. Preheat oven to 375°F (190°C).
2. Cut the tops off the bell peppers and hollow out the insides.
3. In a bowl, mix brown rice, black beans, quinoa, cumin, garlic powder, and salt.
4. Fill each bell pepper with the mixture.
5. Place slices of mozzarella or pastry on top to resemble mummy bandages.
6. Bake for 25 minutes or until the peppers are soft.
This is a hearty snack for a chilly Halloween night!
Spooky Sweet Potato Fries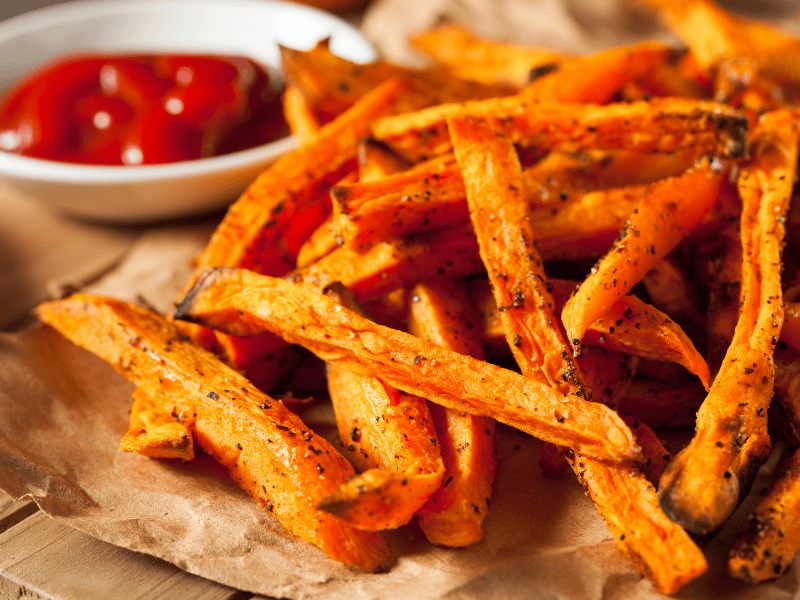 Ingredients:
2 large sweet potatoes, cut into fries
1 tablespoon olive oil
1 teaspoon paprika
Salt to taste
Instructions:
1. Preheat oven to 400°F (200°C).
2. Toss sweet potato fries in olive oil, paprika, and salt.
3. Spread evenly on a baking sheet.
4. Bake for 20 minutes, flipping halfway.
These sweet potato fries offer a high fiber and low sodium alternative, making them a treat your heart will love!
Haunted Hummus Platter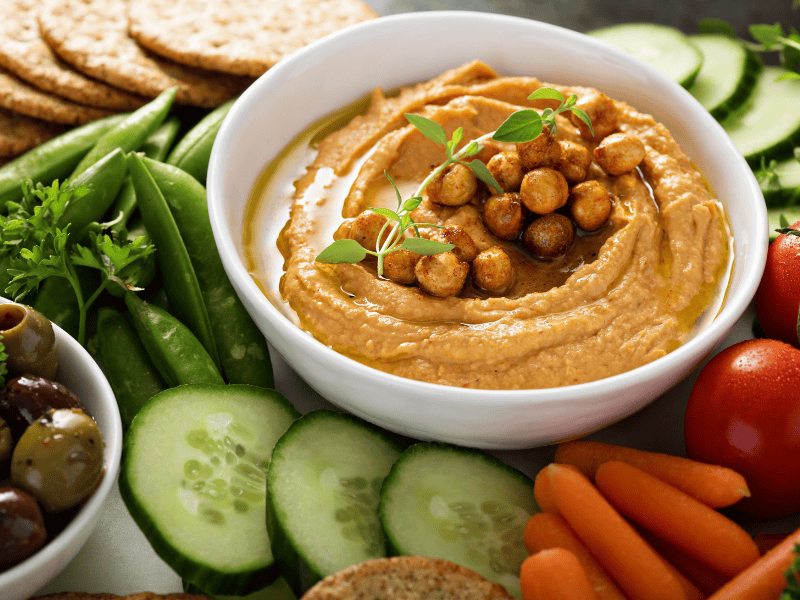 Ingredients:
1 can chickpeas, drained
2 cloves garlic
2 tablespoons tahini
Juice of 1 lemon
1/4 cup olive oil
Assorted veggies for dipping
Instructions:
1. In a food processor, blend chickpeas, garlic, tahini, and lemon juice.
2. Slowly add olive oil until smooth.
3. Serve with assorted heart-healthy veggies like carrots and cucumbers.
This hummus platter is rich in protein and fiber, making it a spook-tacular addition to your heart-healthy menu.
Bloodshot Beet Soup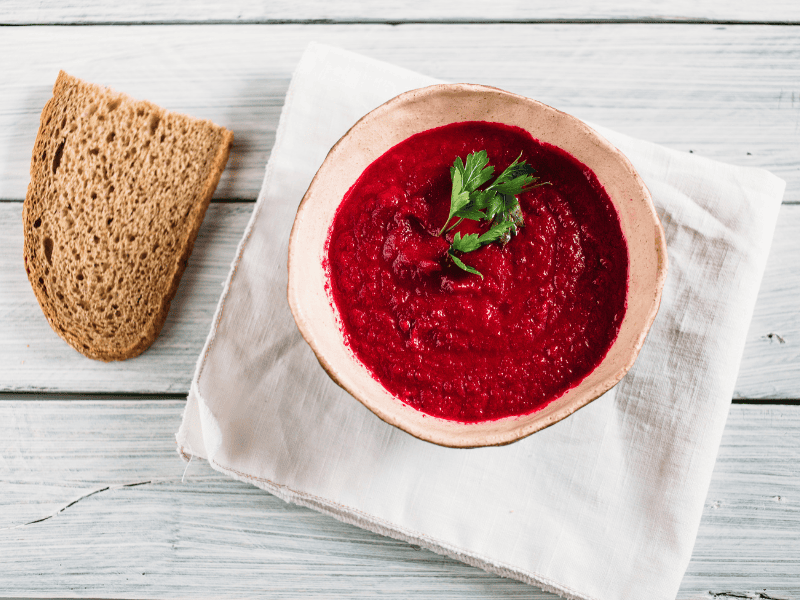 Ingredients:
3 large beets, peeled and diced
1 onion, diced
2 cloves garlic, minced
4 cups vegetable broth
Salt and pepper to taste
Instructions:
1. In a large pot, sauté onions and garlic until translucent.
2. Add beets and vegetable broth.
3. Simmer for 45 minutes or until beets are soft.
4. Blend until smooth and season with salt and pepper.
The antioxidants in beets help support heart health, making this soup a frighteningly good choice.
Vampire-Slaying Garlic Guacamole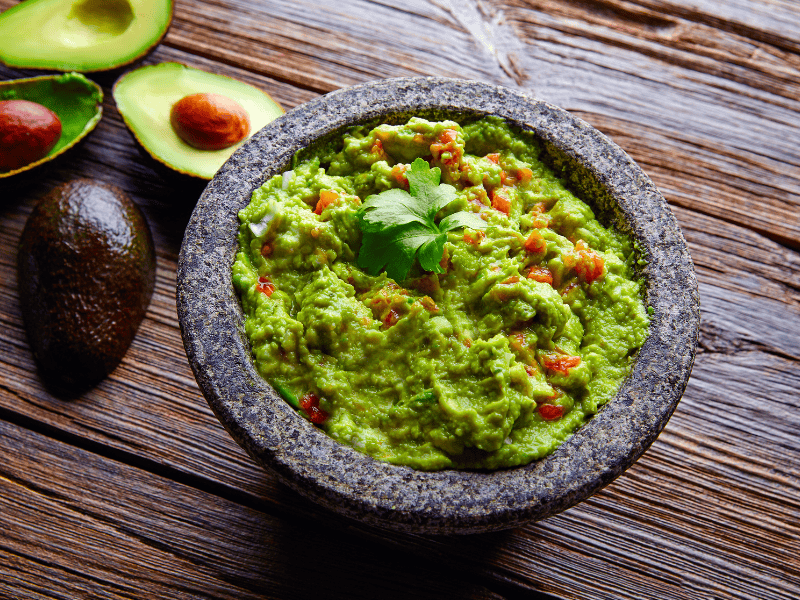 Ingredients:
3 avocados, mashed
1 tomato, diced
1 onion, finely chopped
3 cloves garlic, minced
Juice of 1 lime
Salt to taste
Instructions:
1. In a bowl, mix mashed avocados, tomato, onion, and garlic.
2. Add lime juice and salt to taste.
Loaded with heart-healthy fats from avocado and allicin from garlic, this guacamole is a true vampire slayer for bad cholesterol.
Witch's Cauldron Oatmeal Cookies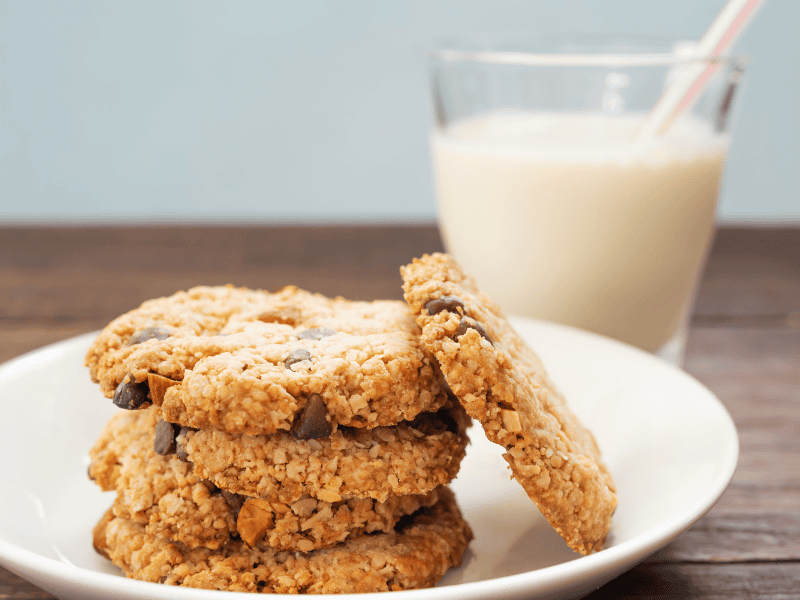 Ingredients:
1 cup whole-grain oats
1/2 cup almond flour
1/4 cup honey or maple syrup
1/2 cup dark chocolate chips
1/2 cup walnuts, chopped
1 egg
1 teaspoon vanilla extract
Instructions:
1. Preheat oven to 350°F (175°C).
2. In a bowl, mix oats, almond flour, honey, chocolate chips, and walnuts.
3. Add the egg and vanilla extract and mix well.
4. Transfer the mix spoonful by spoonful onto a baking sheet.
5. Bake for 12-15 minutes or until golden brown.
With whole-grain oats and walnuts, these cookies are a magical brew of heart-healthy goodness.
Halloween Treats for Heart Health: Wrapping It Up
There you have it—ten spook-tacular Halloween treats for heart health! Keep these recipes in mind as you prepare for a Halloween that's both festive and good for your heart. And, if you're ready to take your heart health to the next level—click here to buy our top-rated omega-3 supplement and get 10% off. Make your heart's health a year-round priority!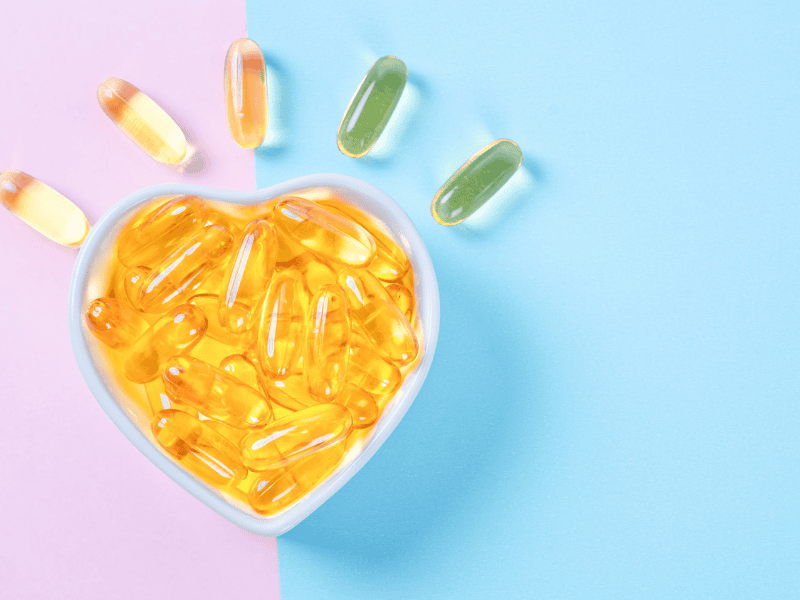 Research Verified®
Omega-3
Protect your heart!